About
Dionne Pope

[email protected]

Originally from Marin County, California I grew up in a Real Estate family. I attended college in Santa Barbara where my focus was as a PreMed Major and a surfing minor. The beauty and comfort of Northern California called me back and there I attended college in Sacramento. I met my husband while on the Water Ski team at CSUS and throughout our college years we spent every possible weekend in Truckee; snowboarding, hiking, mountain biking, golfing and boating. We moved to Truckee with our daughter in 2004 and love our life here.
Working For You…
The importance of listening and acknowledging clients' needs is the key function in selling Real Estate. While sharing with you my professional experience I never lose site of the fact that the experience is yours. With over 25 years of Sales / Management / Operations experience, I can confidently negotiate on your behalf.
Resources…
As your Listing Agent, I work with professional Staging Designers, Sub-Contractors, local Inspectors and Appraisers to heighten your homes competitiveness in the market. As your Buyer's Agent, I provide in-depth market report on your area of interest to ensure you pay fair market value, are aware of the area trends and you are a well informed buyer.
---
Chelsea Boone

[email protected]
Chelsea truly loves living in the Mountains and the lifestyle that goes along with it. She enjoys all that Tahoe has to offer regardless of the season. Her passion for and her knowledge of the Tahoe area make her an asset to her clients and their home buying experience. Chelsea has had the opportunity to travel to and live in many beautiful mountain towns. In her youth she was fortunate enough to be a competitive alpine ski racer. She attend the Steamboat Spring Mountain School for ski racing in Colorado. After Colorado, she attended the University of New Mexico, where she raced in the NCAA Division I competing in the national Collegiate Ski championships. Throughout her college career, Chelsea coached ski racing, for the Santa Fe Ski Team, acting as the head coach for three of her four years there. After college she moved to Vail, Colorado were she continued coaching at Ski Club Vail. Her ski experience landed her in the Tahoe area eight years ago, where she met and married a Tahoe city native and fellow Ski Racing Coach, Mike Prado. Mike's passion for a lifestyle based around the mountains and skiing aligned with her own. Chelsea and her husband are now raising their two daughters in Truckee on beautiful Donner Lake.Chelsea has a passion for house hunting, and recently she made the move to hang her Real Estate License with Tahoe Agent Group. She had a lot of options of which brokerage to associate with, but she made the decision to join TAG after careful consideration, and the group couldn't have been more excited to bring her aboard. Chelsea is working hand in hand with the two founders, Stefanie Scapini and Dionne Pope, who themselves have over 30 years of real estate experience combined. The Tahoe Agent Group has an impeccable reputation in Tahoe and with their clients. Being voted three years standing as the Best Brokerage in Tahoe & Truckee. "The advantage of being mentored by this group gives me a sense of ease as their attention to detail and ethics is on point and extremely seasoned from years of experience. I know my clients are in great hands and not to mention so am I."
Chelsea is an enthusiastic, professional and caring agent. When working with her you will have a relationship of trust and integrity. Chelsea understand the importance of her clients real estate goals, weather buying or selling she will be with you every step of the way.
"Through my active lifestyle here in Tahoe, I have explored the region giving me extensive knowledge of the area. My family and I feel blessed and lucky to call this place home. I enjoy helping others do the same. Whether you are a first time home buyer or are looking for that one of a kind vacation home, I would love to help."
---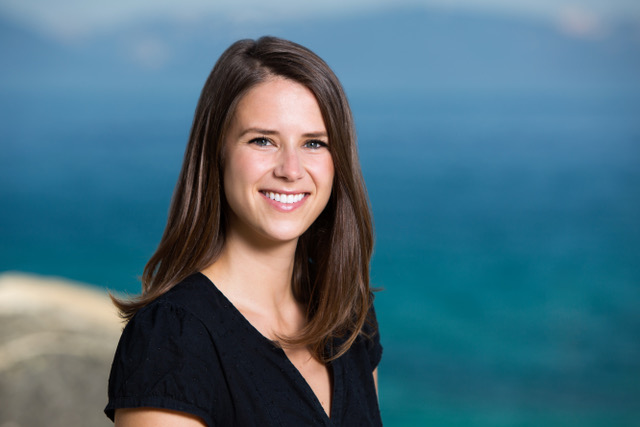 Lora Lashbrook

[email protected]
As a key member to the Tahoe Agent Group Lora has been with us since the beginning.  Her eye for detail and stellar customer service round out the teams goal to offer quality service to our Buyers and Sellers.
Lora has an extensive background in events management, PR and marketing which is welcome to rounding out projects and promotions we create for our clients. Lora is extremely organized and keeps all of the pieces of our escrows moving forward throughout each transaction.
Lora graduated with a  communications degree from the University of California Santa Barbara and has called Truckee, CA home from many years.  She enjoys hiking throughout the Sierra mountains with her dog Penny, camping, traveling and spending time with her family.
Testimonials
Dionne Pope's friendly, knowledgeable and well-rounded experience was exactly what I was looking for.  I had two objectives when working with Dionne. I was looking for a stunning property and also looking to relocate.  Dionne's smart quick action allowed me to make good decisions and both objectives were met beyond my expectations. Dionne made it easy.  I can thank her for my smooth experience with Martis Camp. She's the best in the business!
–  Jay Prigge, Mammoth Lakes, CA
Young,  fun, extremely knowledgeable, never pressured. Always made us feel like we were her only clients.  She was never on the phone with anyone else while with us, was available to show us property immediately and always gave us her full attention.  Wow! What a gal. She handled negotiations and closings smoothly and again, always put us and our interests first. Thank you Dionne.
–  Mary and Scott Werschky, Reno, NV
She concentrated on accurately evaluating our needs in advance and provided us with a number of suitably tailored options. That made the experience as efficient as possible and afforded us the opportunity to complete the viewing to decision process in a single weekend. As a result we had additional time to relax and enjoy the beautiful Tahoe area and purchased an amazing property in Martis Camp.
–   Declan Caulfield, San Diego, CA
We give Dionne Pope the highest of recommendations!  Dionne possesses all the qualities you seek in a realtor: she knows the market extremely well, she is diligent, has excellent follow-through, and is very kind and personable.  Dionne also has a strong business sense and negotiation skills. She is a professional with a no-nonsense style that we really appreciate. Her guidance in remodel and referrals were exceptionally helpful.  She clearly takes pride in her work.
From start to finish she was there for us all the way.  It is a pleasure working with her and would highly recommend her to all potential buyers and sellers.
–  Pete Davern and Dawn Neustel, Truckee, CA
Dionne,  Now that I am thru one holiday and getting geared up for the next, I wanted to take a minute to write a note of thanks for all your hard work in getting my mother's home sold.  I am pleased that we were able to get a deal done in such a tough real estate market. The sale of mom's home will enable her to end a wonderful chapter in her life and focus on the many good years to come.
I know the sale would not have come to fruition without all your hard work and persistence. Especially dealing with the three of us, mom and all the assorted issues of an old home.  I wish the real estate brokers in Greenwich, CT had the same good training, work ethic and common sense to get a deal done. I was very impressed by your professionalism long distance.
P.S. The desk & chair did arrive here safely. The Tahoe Delivery guys did a good job of following thru too.  I'm sure my dad would be pleased to know it will be enjoyed and well used.
–  Doni, Greenwich, CT
Dionne, We wanted to thank you for all your help in finding us our perfect Tahoe Donner home.  If it had not been for your persistence in searching for us, we would have not been fast enough to get this home!  With 6 offers coming in after us, we were indeed lucky to have had you on the "watch!"
We appreciate you taking the time to really listen to what we wanted and did not want in a home.  It is safe to say, that we found the perfect house for our needs and wants. Not only was your service exceptional in the buying stage, but also during the stages that followed- finding home services, meeting technicians when we could not be home, follow up phone calls with questions to the seller, the list goes on and on.
We would recommend you to anyone and everyone we meet who is looking to buy a home in the Lake Tahoe area.  We look forward to doing business again with you in the future as we have found the best realtor in the area.  Thank you again for all your hard work, professionalism and friendship!
–   The Macktinger Family, Granite Bay, CA